A pottery wheel is a tool that helps you to give a shape to your masterpieces—the wheel spins, allowing you to shape the wet clay. Once you make your desired shape and size, you can finally bake or finish the clay you are using.
Pottery wheels for kids is a great idea to explore your kid's creativity and help your little ones.
To encourage tactile experiences, pottery wheels can also help your child to work through any sensory issues.
There are several pottery wheels created for kids, but we want to select the best ones. Let's take a look at the list of pottery wheels.
Another relevant article for great pottery wheels for kids: List of Best Miniature Pottery Wheels.
List Of Best Pottery Wheels For Kids:
For your ease, we have searched the market to choose the best pottery wheels for your kids. Check the list below to get the best pottery wheels for kids.

Faber Castell is a foot pedal pottery wheel. It operates in the same way as a sewing machine. Simply by sitting on the floor, apply pressure on the pedal with your feet to operate the Faber Castell.
Faber Castell requires more attention. Your kid needs to use both feet to turn the pedal and simultaneously shape the clay with their hands.
This wheel is a great option for older kids. Faber Castell contains 3 lbs of clay, a 6-piece tool set, craft apron, table-cover, 12 pots of paint, glaze, sponge, two paintbrushes, illustrated instructions, and ideas. Great for ages 8+.
Key Features:
Complete Pottery Studio: It contains everything you need for a real pottery experience.
Easy and Hands-free Operation: The pottery wheel is operated through the foot, which makes our hands free to focus on the clay.
Learn Pottery Basics and Art History: This pottery kit will teach, and you will be inspired by the kit! The kit contains instructions that teach different pottery techniques and the history behind the pottery craft.
Safe Learning Way For Kids: Non-toxic. Perfect for ages 8+
Give The Gift Of Art: This is the best gift for your kids, the best quality art with Faber-Castell products.
Specifications:
Weight: 1 Pound
Batteries: 4 C
Pros
Great for art gifts.
It keeps the user hands-free.
Cons
It can require more attention and coordination.
Difficult for young children to operate a pottery studio.
2. Alex Pottery Wheel
ALEX Toys' Pottery Wheel contains all tools, tiles, and paints to turn a pint-sized potter into a pottery pro.
Mold clay, shape it, sculpt, and paint your pot, cup, or vase. Leave the clay for air-dry overnight. The machine has holders for all your supplies. Alex's pottery wheel is battery operated, and the foot pedal makes the wheel spin.
The Alex pottery wheel contains a pottery machine with wheel and foot pedal, soft clay (2lbs/907g), 6 paints (0.8oz. / 2.5ml. each), paint palette, 2 brushes, clay cutting cord, 2 carving tools, 3 shaping tools, sponge, spray bottle, cup, 88 mosaic tiles and gems, glue (0.35oz. / 10.3ml.) and easy instructions. The age limit is 6 years.
Key Features:
Battery Requirement: No Batteries are required.
Complete Set Craft Tools: Contains the wheel, pedal, cutting and shaping tools, air dry clay, paint, palette, sponge, brushes, A.C. adaptor, mosaic tiles, gemstones, and glue.
Easy Spin: With easy spin, create vases, bowls, and much more.
Specifications:
Age Range: 6 – 12 Years
Product Weight: 3.9Ibs
Pros
Spins easily.
Run-on A.C. adapters.
Cons
Require adult supervision.
3. Cool Maker Clay Pottery Wheel Craft Kit, Pottery Studio
If you need to learn pottery for the beginning level, Cool Maker is the best option. It includes six different projects: it contains a jewelry holder and a smartphone holder.
This pottery studio also contains two sculpting tools, two coring tools, two sleeves, a paintbrush with Ten metallic colored paints, and an instruction guide containing all instructions. You will get 2 pounds of non-toxic air-drying clay.
This wheel requires four C batteries. Cool maker contains no pedal, but you have a choice of two speeds. It's great for a first-time pottery experience.
Key Features:
Create Awesome Pottery Projects: This pottery wheel contains everything you need to make creative arts and crafts projects like a jewelry dish, cupcake pencil holder, and much more!
Age Limit: The Cool Maker Pottery Studio is perfect for beginners like for the ages of 6+ and requires 4 C batteries.
Customize Your Design: Give your clay to make creative crafts with the sculpting tools and 5 metallic paints. Then paint your creations after designing your art.
Easy To Use: The Cool Maker Pottery Studio with no pedal is easy to use and enhances your creativity.
Specifications:
Brand: Cool Maker
Color: Multicolor
Item Weight: 2.29 Pounds
Battery: 4 C batteries
Pros
Great idea for beginners.
Great for a first-time learning experience.
It includes different projects and supplies.
Cons
It has no foot pedal.
Pottery wheel Runs exclusively on batteries.
4. IAMGlobal Pottery Wheel, Pottery Studio
This potter wheelis battery-operated and with a feature of a switch and with no A.C. adapter option.
With pottery tools and paint, the pottery wheel comes with this set. With this set, you will receive air-drying clay so your kids can create works of art.
Replacement clay is available with this set. You can use any clay to create your crafts. For better results, you should make sure that clay is moist, making it easy to work with it. This pottery wheel is designed for kids 8 years and older.
Key Features:
Improves Child's Ability: The pottery wheel improves a child's ability to coordinate. It helps a kid to have a healthy life by doing art by himself.
An Educational Toy: Kids can seek learning by their creative clay pots by hand.
 Also, a Playing Toy: A playing toy for your child to play with Clay
Set Contain: 1 Cool Clay Studio, 800g of Clay, 1 Cutting cord, 2 Sculpting Tools, 6 Metallic Paint Colors.
Specifications:
Material: Plastic + Paint + Clay.
Package Contains: 1 Pottery Cool Clay Studio, 800g of Clay, 6 Colors of Metallic Paint.
Weight: 3 Pounds
Power Source: Batteries
Operating Mechanism: Switch
Pros
All accessories are realistic.
Studio Contains all project materials.
Cons
The Pottery wheel Exclusively runs on batteries.
5. Made By Me My! Pottery Wheel Kit
The Most Realistic Pottery Wheel for Kids! This kit is one of the best options for authentic pottery. It contains a foot pedal to power up the motorized wheel, so kids practice a real craft.
It also contains handy tools to make the most amazing things. This is an amazing gift for your neighbors, family, and classmates. By using tools, you can sculpt artistic designs. This set also contains a few paint pots so your kids can design their crafts.
The age limit is six and up, but it will require parental supervision and help to learn how to use it. It's not the easiest hobby for your little one.
Key Features:
2 Pounds Of Air Dry Clay: No baking necessary!
Dry Your Craft For 24-48 Hours: Dryness depends on the thickness of the clay.
Power Of Play: The Pottery Wheel is an easy way of creating and fun. Use the foot pedal or the switch to turn on.
Required Batteries: It requires 4 D batteries for a pottery wheel.
Specifications:
Weight: 4.1 Pounds
Power Source: Battery powered (4 D Batteries)
Operating Mechanism: Foot Pedal
Set Contains: a Motorized pottery wheel, tool arm, foot pedal, air-dry Clay, pottery-making tools, clay tools, sponge, ceramic paint strip, cutting cord.
Pros
Will give you a realistic pottery experience.
Contains lots of accessories such as paint, sponge, and foot pedal.
At Affordable rates.
With Air-dry clay.
Cons
Needs parental supervision, hard for kids to use.
It contains hard Clay, so difficult to shape.
6. Ceramic Machine With Sculpting Clay Educational Handicraft DIY Toy Art Craft Kit
It is a pottery studio for beginners. It contains powerful motors, a full workstation, a pressure-sensitive foot pedal, and a Right/Left-hand spinner.
Key Features:
Strongest Pottery Wheel For Kids: This machine is powered with a standard plug delivering maximum spinning power compared to machines working with batteries and thus lacking in energy. To ensure durability and to endure maximum downward pressure, the motor is double-reinforced with innovative technology.
Innovative Features: Even a left-handed child can easily create stunning pottery. It is super simple for any child to make amazing creations.
Complete Workstation: It includes a pottery wheel machine, pressure-sensitive foot pedal, 1 lb. Clay, AC power adapter, three sculpting tools, six colors vials, sponge, spray bottle, color palette, two paintbrushes, and pottery-removing tool. All are displayed on the eye-catching machine.
Specifications:
Item Weight 3.04 Pounds
Powerful Motors
No batteries are needed.
Pros
This kit is as amazing as your child. This improves the creative skills of your children.
It is an educational and fascinating gift for all ages.
Cons
Controlling the balance of ceramic clay is difficult.
7. Insnug Pottery Wheel
It is a Great for Small Projects.
Insung Pottery Wheel is a brightly colored pottery wheel from Insnug. Great for a coordinated child. The art of pottery is very beneficial not only for children but also for adults.
It is the perfect pottery wheel for beginners that contains everything you need to start pottery right away.
A complete set contains air-drying clay and a nice paint and glaze kit. Other tools kit includes 12 paint colors, paintbrushes, sculpting tools, a sponge, and 2 air-dry clays.
Insung Pottery wheel contains colorful stickers so your little artist can enjoy their beautiful works.
This set also contains a guidebook with useful ideas and instructions on how to get your wheel up and running.
Key Features:
Pottery Wheel Kit: Kids can create their cute clay crafts by hand. A complete set contains 2 air dry clays, 12 paint colors, 2 paintbrushes, pottery wheel, clay cutters, easy water-absorbing sponge, dotting pen, carving tools, support stand for beginners, colorful gem stickers, table sheet for spills.
Art And Crafts: Make and design your clay pottery any way you want with a complete art set. Decorating it with colorful gem stickers makes it unique.
Educational Toy: An educational toy enhances the skills of problem-solving and provides a calming experience. Motivate them to design something new!
Safe For Kids: Safety is our priority. Kids' pottery wheel is 100% non-toxic and safe for your kids. With a complete package, it is a perfect gift for future artists.
Specifications:
Weight 3.56 Pounds
Power Source A.A. Batteries
Operating Mechanism Switch
Set contains Pottery wheel, foot pedal, Clay, tools, paint, instruction book.
Pros
Battery-powered.
The metal base revolves smoothly.
Complete set of all tools.
It also contains colorful stickers.
8. Beginners Art Craft Kit, Pottery Wheel Kit For Kids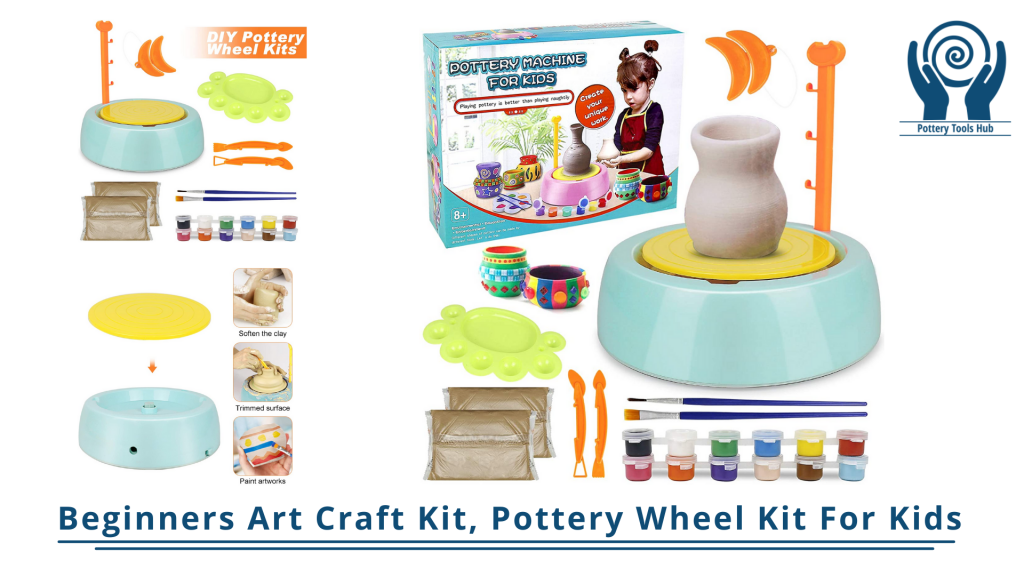 Made up of clay, plastic, and paint, the beginners Art Craft Kit is recommended for children who are over 8 years of age.
It doesn't need to be firing, and air-dry clay is very easy to use. It needs 2*1.5 D Batteries that are not included.
Key Features:
Applicable People: For adults, teens, or children, it is a nice beginner tool. For children who love to do crafts, it is especially an excellent choice. It can teach and inspire children to create small figures, ceramic vessels, tableware, etc. It is great for 8+ ages.
Educational Toy: This is an educational and handmade toy. This pottery machine is more fun and more creative as compared to playing video games in the room.Through the handmade, children create artworks by themselves. Then, they can glaze and paint the creation.
High-Quality Material: It is made of synthetic clay. Non-toxic materials are used in the manufacturing of powerful motor tools. These materials have no particular smell and are protective for young children.
Kit Includes: A full set of accessories are included to make pottery, except the battery. These accessories are 1 Pottery wheel, 1 Pottery plate, 1* 6 colors acrylic paint, 1 support for sculpting and decorating, 2 sculptings, 2 genuine hair brushes, 1 cutting the cord with grips, 2 Clay, 1 Color tray.
Pros
Children can make a beautiful variety of pottery products by themselves because the pottery clay has very good plasticity.
By using unique sculpting tools, the child can customize clay.
It can enhance the coordinated ability and build their art cultivation.
Improves easy learning and developing basic skills.
Cons
Batteries are not included.
9. Mookie's Sunflower Pottery Wheel
Mookie's sunflower Complete pottery wheel set for your kids for beginning learning. When you purchase this Mookis Sunflower Pottery Wheel, first, it's a freakin' sunflower, and second, the set contains Clay, metallic paint, kid-all sculpting tools, a cutting board. Mookie's Sunflower is USB-operated, so no need for batteries.
Key Features:
Learning Wheel Playing: Kids learn during playing when forming pots and bowls, their team workability, and hand-eye coordination abilities—the best way for learning.
Safe For Kids: Our Pottery wheel is safe with no toxic chemical substance.
Complete Set Of Pottery Wheel: You can get everything for a unique creation.1 Electric Pottery Wheel,1 USB plus Batteries,12 Pigments,2 Bags of Clay, 2 Clay Tools,2 Paint Brush,1 Cutting Cord,1 Apron, Guide book Easy-to-Follow Instructions
Much Fun: It is a fun way for your kids to play with Clay and make something new.
Easy Hands-free Operation: This pottery wheel is designed for beginner kids. So kids can easily follow the steps and can make new crafts.
Specifications:
Color: Pink
Item Weight: 2.64 Pounds
Batteries Required: No
10. Buddy N Buddies Pottery Wheel Kit For Kids
It improves kid's ability to coordinate and cultivates artistic conservation. By doing art, it helps children to have a healthy life. Don't need to be fired because it is easy to use for its Air-dry clay.
Key Features:
Educational And Creative Play: Children are naturally curious, and curiosity always feels the need to be connected with the world around them. This toy gives your children a chance to show themselves with their imaginations and creativity. By using these pottery tools, they can make their art pieces.
Upgraded Version with FIVE Improvements: It provides a battery, dual power solutions, and a USB charger. The upgraded motor makes it more durable and offers stronger power. It makes a very low noise as compared to other pottery wheels. This kit includes non-slip pads and a cute apron.
Complete Pottery Studio: Everything you need for a real pottery experience is included in this kit. This consists of a pottery wheel, 2 clays, 12 colors acrylic paint, palette, 2 paintbrushes, cutting the cord, 2 sculpting tools, illustrated ideas, and instructions. It also includes 1 apron, 1 USB charger, and non-slip pads.
Pros
These accessories are without smell and are made of non-toxic materials.
It is secure for toddlers and has cleared safety tests. It gives a safe playing environment to your kids.
Your child can customize clay by using unique sculpting tools.
Premium quality clay doesn't hurt your hands.
This kit makes very low noise. Kids can make creative clay pots by hand.
Cons
Comes in limited colors.
It contains fewer bacteria and microbes.
Conclusion:
I am hoping that the review article was informative. It contains all informative data and instructions related to Pottery wheels. This article also includes several pieces of information on all the best Pottery Wheel Kits.
Overall, my conclusion is that you will be able to experiment with clay. It will broaden your understanding and give you more confidence to pursue clay as a material in the future.
These all pottery wheel are informative and also a way of fun for your child.
This will always make your purchase useful, and you'll always be satisfied with whatever you purchase for kids or your loved ones.
And of course, if you're looking for a guide on how to use a pottery wheel, you are welcome to check out this useful article: Simple Steps of Using a Pottery Wheel (And What Mistakes to Avoid)